This psychedelic zine is for you!
I am back and ready to share. It's been a while, I know, but I've been a busy artist for the past few months! A lot has happened since my last post in July of last year: I opened another Etsy shop, finished another comic about my year, have protested at women's marches and anti-Trump marches, and organize Tuesday Make Days at my house in Oakland!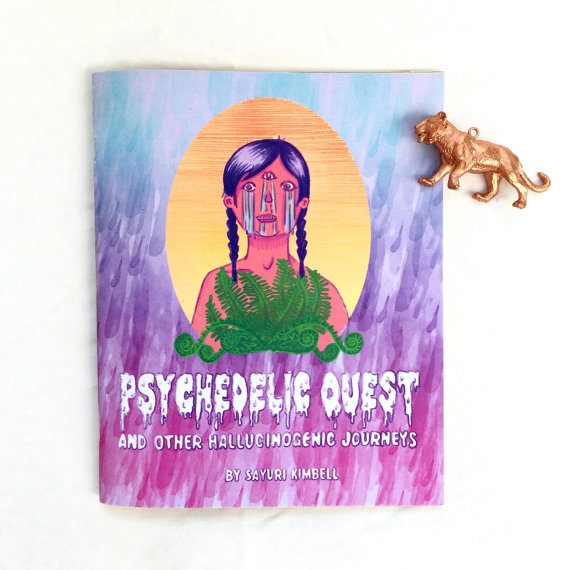 Something that am excited to share is that I finally finished my newest self-published zine, Psychedelic Quest and Other Hallucinogenic Journeys! This psychedelic zine is a unique collection of writing, art, and comics from ten Bay Area artists who share their psychedelic journeys.
I also quit my day job in November to fully focus on supporting myself with my creative practice. No easy feat buy I'm somehow making it work!  When you purchase this zine, you are supporting Oakland artists like myself so don't be shy and buy my psychedelic zine on Etsy for a cool $15 🙂
This zine makes the perfect gift for your favorite mushroom micro-doser, acid fiend, weed snob, or ayahuasca shaman.
Psychedelic Quest and Other Hallucinogenic Journey is a zine exploration of the interior world of the psychedelic tripper. This self-published zine includes 36 pages of comic and illustrative magic.
These 36 pages (front cover not included) were risograph printed on beautiful cream vellum paper in the magical printing press, Lemon Drop Press https://www.etsy.com/shop/LemonDropPresss in Oakland, California.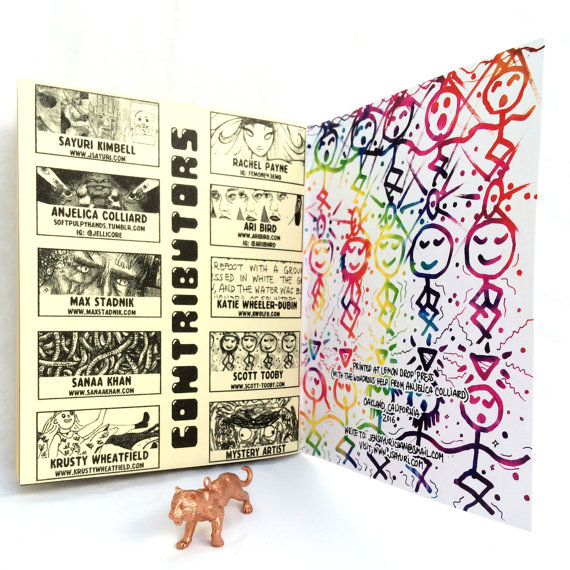 This zine was compiled by your truly and showcases the work of:
Myself
Anjelica Colliard – https://www.etsy.com/shop/softpulpyhands
Max Stadnik – www.maxstadnik.com
Sanaa Khan – www.sanaakhan.com
Krusty Wheatfield – www.krustywheatfield.com
Rachel Payne – IG femone43emb
Ari Bird – www.aribird.com
Katie Wheeler-Dubin – www.kwolfd.com
Scott Tooby – www.scott-tooby.com
Mystery Artist – It's a mystery
Take care and I hope to keep my supporters updated on what I've been up to and what's to expect in the future! Love, Sayuri.