I recently wrote about my love of books in their ability to communicate ideas and incite action. The process of writing and making books also connects people around a specific goal. A large part of why I make art is to participate in these communities to elevate the human experience.  And that's why I love ZINES!  In addition to making my own books, I also submit my art and comics to the zine: Come Find Out. Here's one of my favorite pages from the recent installment of Come Find Out: Hairzine.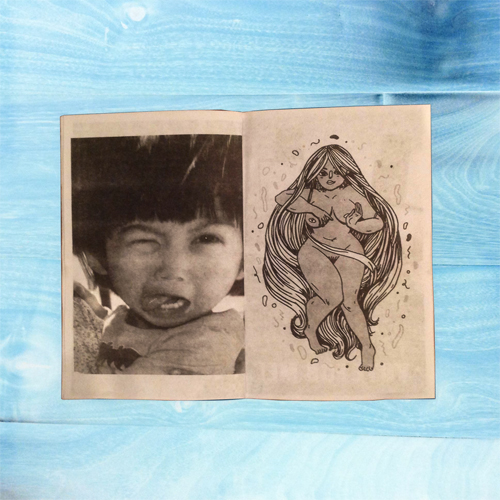 For anyone who isn't familiar with what zines are, here's the Wikipedia definition:
"A zine (/ˈziːn/ ZEEN; an abbreviation of fanzine, or magazine) is most commonly a small circulation self-published work of original or appropriated texts and images usually reproduced via photocopier.
A popular definition includes that circulation must be 1,000 or fewer, although in practice the majority are produced in editions of less than 100, and profit is not the primary intent of publication. They are informed by anarchopunk and DIY ethos.
Zines are written in a variety of formats, from desktop published text to comics to handwritten text (an example being the hardcore punk zine Cometbus). Print remains the most popular zine format, usually photocopied with a small circulation. Topics covered are broad, including fanfiction, politics, art and design, ephemera, personal journals, social theory, riot grrrl and intersectional feminism, single topic obsession, or sexual content far enough outside of the mainstream to be prohibitive of inclusion in more traditional media. The time and materials necessary to create a zine are seldom matched by revenue from sale of zines."
Or maybe better yet, listen to this by Los Angeles' KCRW:
When I was studying art in northern California, I met two zany girls who make zines and founded Come Find Out: Anjelica Colliard and Kelsey Westphal.
Collaboration can be a scary topic for artists, but great things happen when small groups of people put their heads together to realize a project.  I think the success of Come Find Out, comes from Anjelica and Kelsey's ability to bring their friends together and make them excited to contribute their work — no matter how crazy or open-ended. I've submitted and published my work to two of their zines: True Life Stories and Hairzine.
At a fundamental level, I love the idea of zines because they represent self-publishing and creative individualism at their finest. Cut the middle men! Get your voice out there! Make your own books!
Stay tuned for a interview with these two ladies and their vision for the future of Come Find Out.